Here's What You Need To Know Before You Choose Favorite Jumpsuits.
Selecting every dress possesses certain criteria, and the idea is even more applicable to jumpsuits. Jumpsuits are an entirely new outfit genre among the modern trend categories. It is one of the few outfit trends that exhibit the most dynamic variety of movements, often leaving wearers confused about what they want to display. Jumpsuits also cover the entire body and come in different cuts, which require your sheer attention to certain aspects before purchase to make the best out of the investment, effort, and expectation simultaneously. Below are some of the criteria and conditions for selecting your favorite jumpsuit to snatch the spotlight this season.
Source
1. Give some extra attention to the entire fit
As mentioned above, the jumpsuit covers the entire body and is mostly unstructured, and it is best to pay some extra attention to the fit. The first step to the right fit is to ensure that the waistline is prominent. If the waist is perfectly set, the other parts will automatically fall into place, but you can still scrutinize the neckline, sleeves, etc. Jumpsuits look best on women if the curves are highlighted properly but lady-like. Not too tight, neither too loose! Now another thing you can do is to wear a narrow belt of a suitable color around your upper waist. This adds a feminine touch to your entire outlook reflecting ultimate confidence.
2. Know your body type and choose a piece that will suit
Body type makes plenty of difference when it comes to jumpsuits. As a woman, your entire look after wearing, in fact, any outfit highly varies as per the body's shape. A wide variety of jumpsuits are carefully designed for each body type, and you will have plenty of options. For instance, if you have a heavy lower body and want to cover it up, go for a pencil cut dark in color. This will shrink down the broad outlook. A vice-versa conception applies if you have a heavier upper body.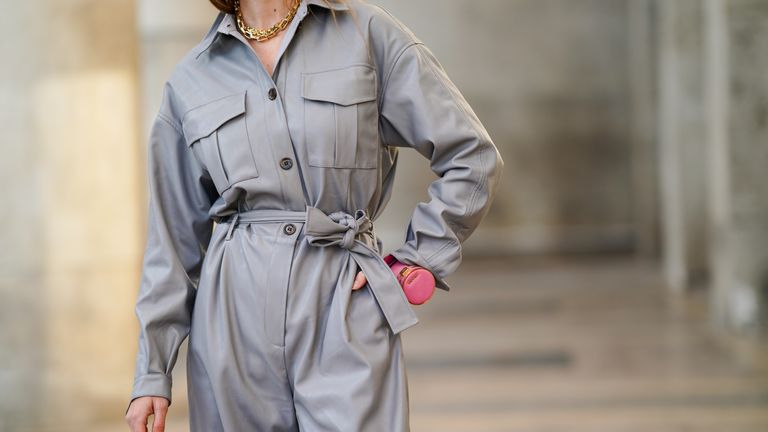 Source
3. The main catch lies in the length of the pant
When it is about looking stunning in a jumpsuit, the length of the pants makes a lot of difference. Although the jumpsuits are mostly full in size, they have certain specifications. To break it down more precisely, you must choose a piece according to the footwear you generally wear. Or, if you are purchasing it for a special occasion and planning to wear heels with it, it is better than going for the ones with a flared end.
The pair looks cool! Other than that, take opinions from your fashionista friends on which type of length suits you the best. This will help you grasp a realistic idea of what works for you more and go to the kind you feel comfortable walking in. Heels do not go well with ankle-length jumpsuits, whereas if you are a flat enthusiast, it is better to go for the elastic, three-quarter, or ankle-length ones. Style makes no sense without comfort.
4. Pick a color that you can wear as your second skin
The third significant key to gorgeous ladies' jumpsuits is their color tone. Jumpsuits are one-piece outfits that will give you minimal chances of mixing and matching. It is essential that you hence, straightforwardly consider the color. Try not to go by that eye-catching first-time look at the outfit and take some time judging the color, placing it beside your skin. This is very important as most ladies lose interest in the dress after purchasing it, which then resides forever in the wardrobe. So, do not force yourself to carry a color you would not feel comfortable in. Pick the one that makes you feel more like you. Also, consider your signature preference in this case. For instance, go for a bright color or multicolored suit if you keep an eye for catchy combinations. If you are a subtle color person, pick the shade that will match your taste. It's as simple as that!
5. The pattern has a massive effect on how slim or healthy you will look
Now, coming to the jumpsuit pattern, it is essential that you again contribute some additional attention to this part. Designs have a significant effect on the way you will look. To break it down, if you have a slim body type, it is wise to go for plain solid colors like purple, black, bottle green, or even lighter shades like peach, baby pink, sky-blue and more. Solid colors will make you look neither too broad nor shrink your shape and merely reflect perfection. On the other hand, you can choose horizontal patterns if you are skinny and want to exhibit a more general condition. This works. An opposite conception goes for the vertical stripes and is advisable if you have a bulky body and want to look taller and slimmer. Millions of cool patterns are available nowadays, and you will never run out of stock.
Lastly, you can consider the various aspects, including the neck cut and the accessories you will wear with the piece. However, it is not feasible to be so much specific about the minor aspects. However, all said and done, know that you are the best person after all to find that ideal piece of outfit for yourself. So, ease up your jumpsuit hunt with the abovementioned tactics and go ahead and snatch compliments this season like everyone else is invisible.